Description
Southwestern Beaded Zoe Dog Collar

The Zoe is a Native American inspired design using the colors of the southwest, Black, turquoise, purple and silver. We use durable faux bone beads to create a unique and hip look for your pet!

This collar comes with a sturdy side release buckle or choose a martingale style chain (example pictured below).

A Customer Favorite! Handmade in the USA. This collar comes with a sturdy side release buckle or choose a martingale style* chain (example pictured below). *If ordering a martingale style collar, please measure the largest portion of your dogs head, since the collar has to fit over the head and does not have a buckle closure.

This collar is not adjustable; it is a custom fit collar. Please see our sizing chart (below) for more information on how to measure your pet's neck.

Our collars and leashes feature:
Durable contoured quick release buckle.
Long wearing UV filtered cording that resists mold and mildew.
Durable steel welded "D" rings.
Heavy duty trigger snaps on all leash hardware.
Charms and other accessories can be added for that special touch.
Most Beaded Collars are available with 2 - 4 strands, a few are only 3 or 4 strands due to the design. You can choose the number of stands at no additional cost.
Our Zoe beaded dog collar comes in a 3 strand width only due to the design patter
Matching Southwestern Dog Leashes are available.

Sizes 12 - 26 inches
How To Measure

Our collars are sized according to the measurement noted on the picture, not to the over-all length of the collar, which varies by manufacturer and by whether it is a plastic buckle-end or a metal belt-style end.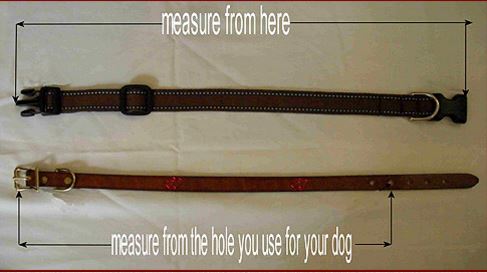 Place two of your fingers between the dog's neck and the collar; there should be no more than the width of those two fingers between the neck and collar. If it fits looser than this, the collar could slip over the dog's ears. When taking measurements, please make sure the tape measure rests comfortably around the dogs neck. Do not pull the tape measure too tight or allow it to be loose. Do not add additional inches because the beaded collars are a custom fit, actual measurements must be incorporated into the collar size.
We are is not responsible for incorrect measurements. Please contact us if you need assistance.
IMPORTANT: To select the correct pricing, if you are ordering based on your dogs actual neck size add 1 inch to the neck size and order based on that size. If you are ordering based on your dogs current collar, measure as pictured above, order based on the actual measurements unless you need a larger size.
| | |
| --- | --- |
| | |
| Be sure to include the measurement of the LARGEST portion of the dogs head if ordering a Martingale Collar. | |
View All
Close