Description
Muttluks Fleece Lined Dog Boots - For Teacup to Big Dogs
Muttluks dog boots are not the cheap, flimsy fashion boots that are sold at pet chain stores. Muttluks are serious paw protection for working dogs - whether they're pulling a sled or working in the hot sands of Iraq. They are provided to many military working dog teams overseas that work in areas that may be dangerous or harmful to sensitive dog paws, such as the hot sands or vehicle surfaces in Iraq, or rocky mountainous terrain in Afghanistan. Great for dog trekking and will keep your pup's paws safe from those dangerous trails in the mountains.
Waterproof fabric on the exterior keeps dogs dry and clean
Fasten with an adjustable velcro strap which is reflective for night-time safety.
Inner fleece lining keeps paws warm and comfortable
Quick drying cuffs are versatile and easily adapted for dogs with short or long legs
Self-tightening Hook & Loop straps allow for an easy, secure and quick fastening strap that ensures a snug and comfortable fit
3M Scotchlite™ reflective material on the back of the strap provides safety for dogs by offering nighttime visibility
The boot bottoms are made from treated, water and salt resistant leather
The leather toe cover (available in sizes M-XXL) offers protection and durability for larger dogs; with the Cordura® Nylon toe cover available for smaller dogs (sizes Itty-Bitty to Small)
The entire boot is stitched with heavy-duty industrial bonded nylon thread
Available in eight sizes to fit breeds from Chihuahuas to Great Danes and everything in-between
Distinctive and reusable cloth mesh packaging can be used for storing or washing
Available in Black, Blue, Green, Orange, Pink, Purple or Red - Sold Separately
Available in Sizes: Itty BItty, XXS, SX, S, M, L, XL, XXL
4 Boots per package
CLICK ON THE VIDEO TAB ABOVE FOR HOW TO MEASURE
Made in Canada
SIZE CHART
HOW TO MEASURE: Place a piece of paper on the floor. Put your dogs foot on the paper, Make a dot on the front and back of the foot. Front, Back (at an angle). Include the toe nails. Take their foot off, give them a back or tummy rub. Measure the distance between the dots.
Woof Walkers, Hott Doggers and Muttluks

Suggest Breeds listed, however, each breed can run smaller or larger

Inches
SIZE
CM
0-1

X ITTY BITTY (Hot Doggers ONLY)

Dogs under 5 lbs

0-2.5
1-1.5

ITTY BITTY

Chihuahua, Toy Poodle, Yorkie

2.5-3.8
1.5-2.25

XXSMALL

Jack Russel, Lhasa Apso, Pug, Min Dachshund, Min Poodle, Min Schnauzer, French Bulldog

3.8-5.2
2.25-2.75

XSMALL

Sheltie, Min Schnauzer, Whippet, Fox Terrier, Bichon Frise

5.2-7
2.75-3.25

SMALL

Beagle, Border Collie, Pit Bull

7-8.2
3.25-3.75

MEDIUM

Doberman, Labrador, Boxer, Husky, Pointer, Std Poodle, Schnauzer

8.25-9.5
3.75-4.25

LARGE

German Shepherd, Retriever, Afghan, Borzoi

9.5-10.8
4.25-4.75

XLARGE

Akita, Old English Sheepdog, St Bernard, Newfoundlander, Pyrenees

10.8-12.1
4.75-5.25

2XL

Great Dane

12.1-14
Sizing Tips:
Choose the size which fits the dogs entire paw, including toe nails. A snug fit is best. Boots that are too large may slip off.

Putting boots on your dog:

Your dog will best acclimatize to boots and shoes outdoors so be ready to go outside immediately, then:

• Open the Velcro strap fastener
• Stand over the dog and slip Muttluks on from behind the dog
• Bunch up the cuff and pull the Muttluk over the paw
• Hold the dog's elbow with one hand and wiggle boot on with the other hand
• Pull Velcro strap TIGHTLY around the boot and press shut
• Cut-off any excess strap, if desired
• Take your dog outside and enjoy!

Suggested Boots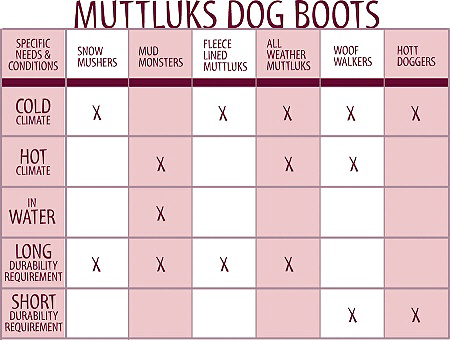 View All
Close