Description
Black Dog Jog Rain Suit by Muttluks - Small to Large Dog Sizes
Doggie Raincoats not cutting it on those windy rainy days. Great jogging suit for your jogging buddy! Keep your pup clean and dry. Great for camping, hiking and jogging.
Repels water
Easy Step In Design
Waterproof Nylon
Fur friendly back zipper with quick and easy closure
Great for dogs in wet regions
Machine washable
Full-body Dog Rainsuit- excellent protection against rain, snow, sand dust, twigs, and more. Waterproof yet breathable dog coat allows to wear it year round. High quality Zipper closure along the back.
Shown with boots, sold separately. Leg ends at the ankles
How do you Check the Size? It's Easy!
For sizing
, measure from the dog's collar, between the shoulders to the dog's tail. This length corresponds to the size of the snowsuit.
For Example: If the distance in the above picture is 12 inches, then this dog would use a size 12 snowsuit.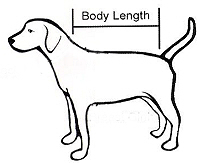 View All
Close