Description
Alpaca Dog Sweater - Gingerbread Man (Sleeveless)

Gingerbread Man soft and snuggly alpaca dog sweater for small dogs. So much cuter than pictured! Turtleneck mid-weight sweater includes a harness hole for leash attachment. Lots of stretch for easy on and easy off. 3 dimensional scarf, black buttons and eyes. Cute Christmas puppy dog sweater is perfect for those Holiday photos!

If you have a short-haired dog, he might feel the itch of sheep's wool. Many people (and dogs) prefer alpaca fiber over sheep's wool and here is why.
Alpaca fiber is soft like cashmere, smoother than silk, warmer than goose down, lighter and more durable than wool.
Alpaca Fiber comes in an extraordinary variety of natural colors and is stronger than sheep wool.
Naturally hypoallergenic
Alpaca fiber is water resistant
Wearable for those people who are allergic to wool.
Alqo Wasi is currently working with workshops composed by women from the regions of Puno and Ayacucho, in Peru. Stunning Incan designs in colors from the earth and sky.

The Alpaca Fiber is a superb source of shine and texture. Alpaca is the only animal species worldwide, whose hair naturally displays a wide array of colors, going from black to white, through different shades of brown and gray, and the fleece dyes to glorious colors as well. Alpaca is a sheared fiber, never skinned. Native Andean herdsmen shear them every other year at the onset of the rainy season. The first clip of the shearing alpaca is called baby alpaca. It provides a featherweight, heavenly soft fiber that is even more prized.

WASHING: Can be machine washed on Gentle Cycle with soft detergent or soap. Although we always recommend hand washing for a better life of the sweater. Lie flat, pull sides to shape, and let dry.
| | | | | | | |
| --- | --- | --- | --- | --- | --- | --- |
| Size | XXS | XS | S | M | L | XL |
| Dog Length | 10 - 12" | 12 - 14" | 14 - 17" | 17 - 19" | 19 - 21" | 21 - 24" |
| Girth | 11 - 14" | 14 - 17" | 17 - 19" | 19 - 21" | 21 - 24" | 24 - 26" |
| Sweater Length | 9" | 12" | 15" | 17" | 19" | 22" |
MEASURING: Please measure from the back of the neck to the base of the tail. The Lengths stated above is how long the poncho will be on your pet.
The Girth is the MOST important measurement.
IMPORTANT: if your pup is at the upper end of the size chart for the Girth and/or has a lot of fur, we suggest you go up a size.
SIZING NOTE:
Sweaters have a lot of stretch around the girth. The chart above is without any stretching. The chest is a lose ribbed knit that easily expands several inches so your pup won't be uncomfortable.
Click the HOW TO MEASURE Tab above for measuring assistance.
HOW TO MEASURE
HOW TO MEASURE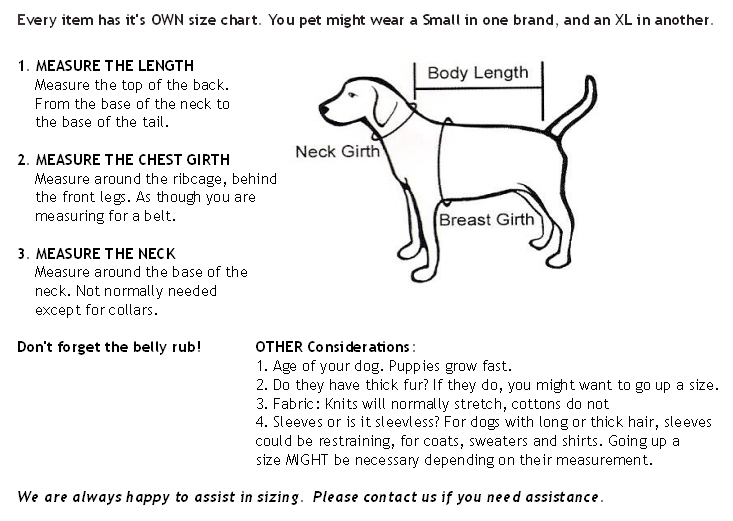 View All
Close