Description
Wild Breed Patch Dog Tank
Available in XSmall & Large DOG sizes!
High cut around belly to avoid soiling.
Sleeveless

100% Cotton knit - Doggie Skins combed ringspun to provide outstanding comfort & superior softness

High quality fabric and workmanship

Machine Washable
Colors: Black, Pink, Heather Grey, Red, White, Navy, Pink Camo, Green Camo
These are a Made to Order item and are not return or exchangeable. Please take the time to measure. Due to all the sizes, colors and different styles, we do not stock this item.
Usually Ships in 4 - 10 business days.
Please take the time to measure! We want your order to fit when you receive it. The Chest Girth is the 1st most important measurement.
Click the SIZE CHART Tab above for the size chart.
SIZE CHART
HOW TO MEASURE
We suggest using a cloth measuring tape. If you don't have one available, you can use a ribbon, string or piece of yarn, mark it then lay it on a yard stick.
The Largest portion of the chest is directly behind the front legs, make sure your dog is standing. Start at the back, bring the measuring tape directly behind the front legs, all the way under, around and back to the beginning. If your pup has a lot of fur, we suggest you go up a size. Allow for some shrinkage.
While your dog is standing, measure their length from the base of the neck to the rump, do not include the tail. The the neck, the neck is usually not an issue unless your dog has an unusually large neck. Don't forget the belly rub!
Size
Neck
Length
Girth
XS
9 inches
8.75 inches
12 inches
Small
10 inches
9.5 inches
13.5 inches
Medium
11 inches
10 inches
14 inches
Large
13.5 inches
12 inches
16.5 inches
XLarge
15 inches
16 inches
18 inches
2XL
19 inches
18 inches
22.5 inches
3XL
22 inches
18.5 inches
29 inches
HOW TO MEASURE
How to Measure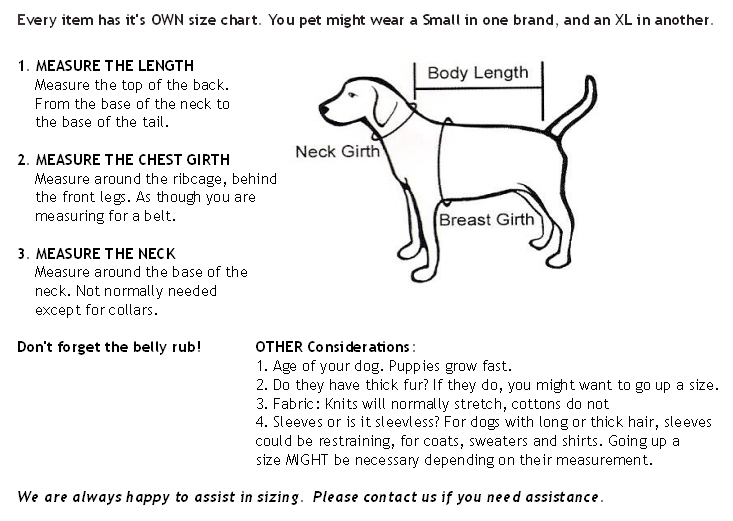 XS 8.75 9 12Small 9.5 10 13.5Medium 10 11 14Large 12 13.5 16.5X-Large 16 15 182XL 18 19 22.53XL 18.5 22 295XL 22 23 306XL 24 24 32
View All
Close