Description
Chicks Dig Me Screen Print Dog Hoodie - Bright Pink
You'll love this poly/cotton sleeved hoodie for cold weather days, double stitched in all the right places for comfort and durability!  Keep your pet warm and cozy and still fashionable.  So affordable you'll want more than one.
Matching shirts (tanks), bandanas and dresses also available, sold separately.
Double stitched in all the right places for durability
Soft interior
Short Sleeves
Slit for leash attachment to collar or harness.
Colors available: Red, Black, Pink, Grey, Baby Blue, Cream, Royal Blue, Purple, Gray, Brown
NOT ALL colors are available for every design, depending on the colors of the design. 
Made of 65/35 Cotton/Poly blend for minimal shrinkage wash in cold water. If you want it to shrink, dry on a high setting. Â We suggest you wash the dark colors separately for the first wash in case of color bleeding.
Machine Washable
Please take the time to measure! Â We want your order to fit when you receive it. Â The Chest Girth is the 1st most important measurement.
Click the SIZE CHART Tab above for the size chart.
SIZE CHART
HOW TO MEASUREÂ 
We suggest using a cloth measuring tape.  If you don't have one available, you can use a ribbon, string or piece of yarn, mark it then lay it on a yard stick.
The Largest portion of the chest is directly behind the front legs, make sure your dog is standing.  Start at the back, bring the measuring tape directly behind the front legs, all the way under, around and back to the beginning.  If your pup has a lot of fur, we suggest you go up a size.  Allow for some shrinkage.
While your dog is standing, measure their length from the base of the neck to the rump, do not include the tail.  The neck is usually not an issue unless your dog has an unusually large neck. Don't forget the belly rub and treat for their hard work!
 Size  
Neck  
Length  
Girth  
  XS
  9 inches 
  8 inches 
  15 inches 
  Small
  11 inches 
  10 inches 
  16 inches 
  Medium  
  12 inches 
  12 inches 
  18 inches 
  Large
  13 inches 
  14 inches 
  20 inches 
  XLarge
  15 inches 
  16 inches 
  21 inches 
  2XL
  16 inches 
  18 inches 
  23 inches 
  3XL
  18 inches 
  20 inches 
  27 inches 
  4XL
19Â inches
22Â inches
28Â inches
  5XL
21Â inches
24Â inches
30.5Â inches
  6XL
   22.5 inches    
     26 inches      
     33 inches       
HOW TO MEASURE
How to Measure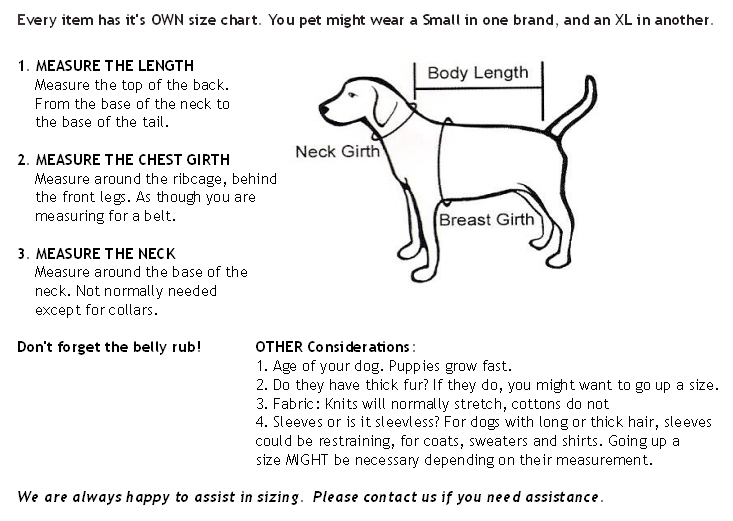 View All
Close