Description
Banana Dog Camp Shirt
Banana Dog Shirt with a fun yellow Bananas graphics pattern. Designed for the guys but girls can sport this too! Snaps up the chest, includes a small opening for the leash. This camp shirt includes a yoke in the back just like daddy's shirts, collar and short sleeves. Goes from the backyard barbecue to the boardwalk or beach! Great protection from the summer sun's damaging rays. Don't forget the shades!
100% Cotton
Designed for Teacup size dogs to Toy Breeds
Machine Washable

Sizes XS - 3XL

PLEASE TAKE THE TIME TO MEASURE: Not all designers use the same measuring scale. A size Small with one designer could be a Medium or even a Large with another designer. Girth is the first most important measurement the the length. If it does not close, it will not fit.


Click on the TAB above HOW TO MEASURE for more measuring directions
SIZE

Neck

Girth

Length


XXS


5.5 - 7.5 inches
8.5 - 10.5 inches
5 - 7.5 inches

XS


7.5 - 9.5 inches
10.5 - 13 inches
7.5 - 10 inches

S


9 - 11 inches
12.5 - 16 inches
9.5 - 12 inches

M


11- 12 inches
15.5 - 18 inches
11.5 - 14 inches

L


12 - 14 inches
17.5 - 20.5 inches
13.5 - 16.5 inches

XL


13 - 15 inches
20 - 23 inches
15.5 - 18.5 inches

2XL

15 - 17.5 inches
22 - 25.5 inches
17.5 - 21 inches

3XL

16.5 - 20

inches

24.5 - 29.5

inches

21 - 24.5

inches
HOW TO MEASURE
How to Measure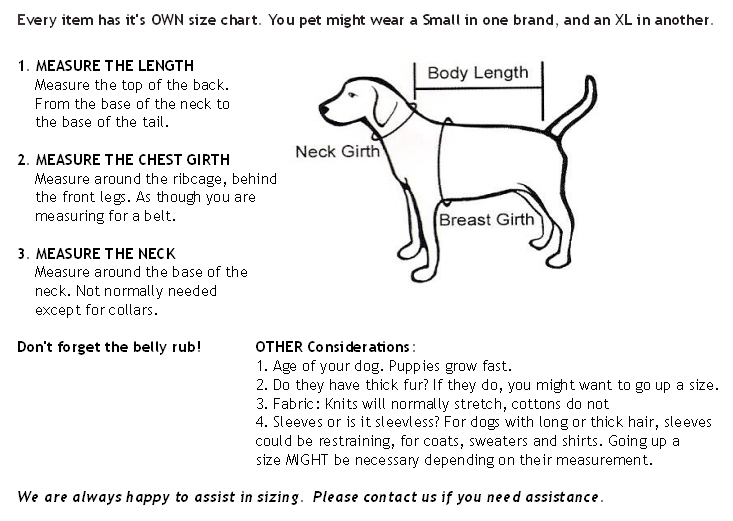 View All
Close