Description
Little Devil Red Dog Sweater
Pullover styled fleece sweater, with mischievous Devilish face and horns, completed with accented black wings on the back. Great for Halloween and everyday wear. Leash hole. Teacup to Big dog sizes, all your pups can dress alike.
Belly area cut high to avoid soiling.
Leash hole
Machine wash
Imported
Machine Wash and dry
Easy Care
Sizes XXS - 4XL
PLEASE TAKE THE TIME TO MEASURE: Not all designers use the same measuring scale. A size Small with one designer could be a Medium or even a Large with another designer. Girth is the first most important measurement the the length. If it does not close, it will not fit.


Click on the TAB above HOW TO MEASURE for more measuring directions
SIZE

Neck

Girth

Length


XXS


5.5 - 7.5 inches
8.5 - 10.5 inches
5 - 7.5 inches

XS


7.5 - 9.5 inches
10.5 - 13 inches
7.5 - 10 inches

S


9 - 11 inches
12.5 - 16 inches
9.5 - 12 inches

M


11- 12 inches
15.5 - 18 inches
11.5 - 14 inches

L


12 - 14 inches
17.5 - 20.5 inches
13.5 - 16.5 inches

XL


13 - 15 inches
20 - 23 inches
15.5 - 18.5 inches

2XL

15 - 17.5 inches
22 - 25.5 inches
17.5 - 21 inches

3XL

16.5 - 20

inches

24.5 - 29.5 inches
21 - 24.5 inches

4XL

19 - 22.5

inches

28.5 - 33 inches
24.5 - 28.5 inches
HOW TO MEASURE
How to Measure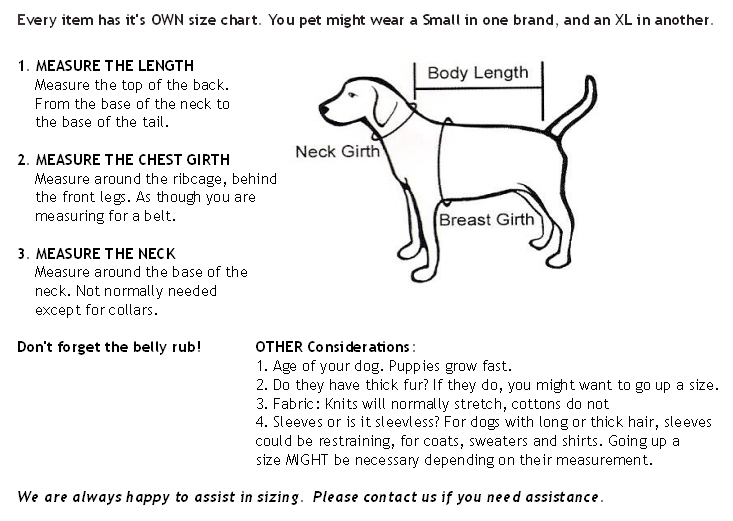 View All
Close