Description
Pocket Full of Elephant Dog Sweater & Toy Set

Your fur-baby may have an elephant on her back, but this elephant is her best friend! Charming knitted elephant toy with squeaker tucks away in a coordinating knitted elephant pocket. This adorable sweater features an elephant pocket with 3-D hand-crocheted ears, trunk, tail and feet, and comfy rolled-cuffed neckline, sleeves and hemline. Made with 100% organic cotton. Knitted elephant squeaky toy included.
Please take the time to measure. The chest is the most important measurement, then the length. Example. If your pups chest girth is 17 inches and your dog is about 12 inches long, choose the size Small, if the chest is 17" and the length is 14 inches, then order the Medium.
How to Measure Your Dog
To determine the best fit for your dog, use the following tips to guide you.

When measuring, try to have your dog stand in a relaxed stance.

Use a fabric or soft tape measure, and measure completely around the appropriate body part. Keep the measuring tape a bit loose.
Please remember that every dog is different and might need to wear a size up, especially if your dog has longer, thicker fur, is larger boned, or has a deeper, fuller chest. This might apply especially to sweaters, dresses, or t-shirts, if you prefer a looser fit.
When choosing the perfect fit, measure your dog's back, neck, and chest:
Back: Measure from the base of the neck to the base of the tail.
Neck: Measure all the way around the neck at top of the shoulders.
Chest: Measure girth all the way around broadest part of chest or ribcage. (This is the MOST IMPORTANT MEASUREMENT) If the dress does not close around the chest it won't fit. The Back length is the next important measurement.

SIZE CHART
Size

Chest Girth (inches)

Back (inches)
Neck (inches)
Approx
Weight
XXS
8 - 10
6 - 8
6 - 8
under 3 lbs
XS

10 - 14
8 - 10
8 - 10
3 - 6
Small

14 - 17
10 - 12
10 - 12
6 - 10
Medium
17 - 20
12 - 14
12 - 14
10 - 15
Large
20 - 23
14 - 16
14 - 16
15 - 20
Click the HOW TO MEASURE Tab above for measuring assistance.
HOW TO MEASURE
HOW TO MEASURE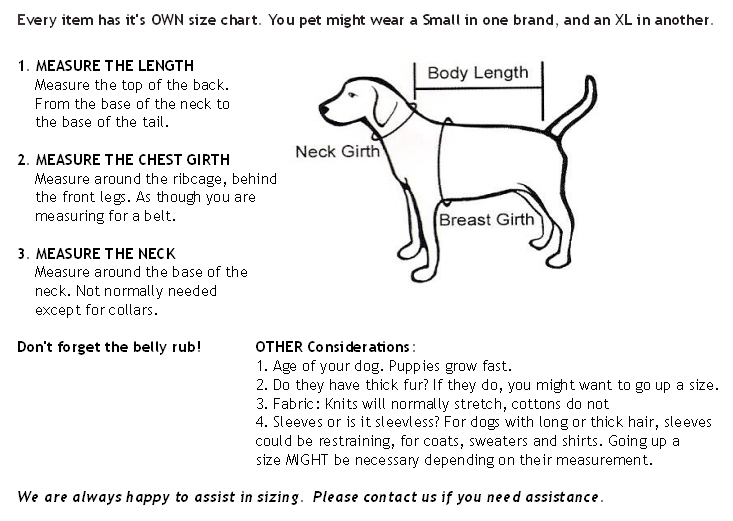 Click the SIZE CHART Tab above for the size chart.
SIZE CHART
HOW TO MEASURE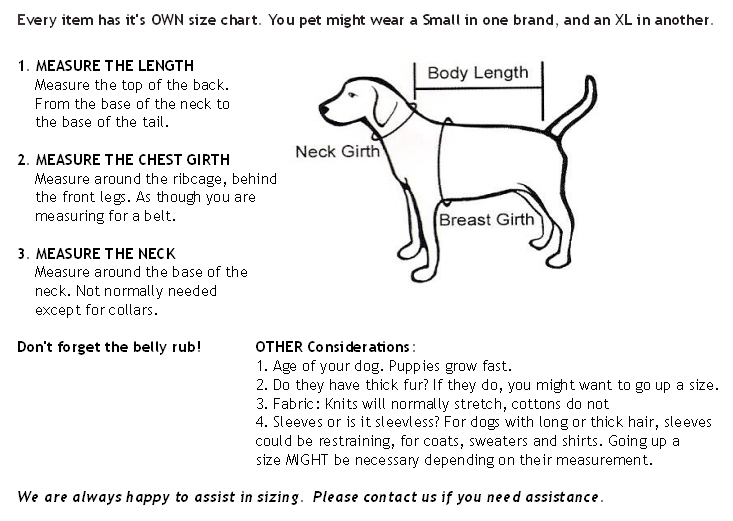 View All
Close