Description
Full Blossom Pink Turtleneck Fleece Dog Pajamas /Jumpsuit

Designed with little girly pups in mind. This Full Blossom Pink pattern fleece outfit will keep your pup warm and cozy. Can be worn as Pj's or a jumpsuit for indoor or outdoor wear. The chest is covered but the belly area is 'open for business'. Extended collar can be worn as a turtleneck or folded down. Extended sleeves for dogs with longer legs and can also be folded up, leg cuffs are made from the same fleece. A functional pocket on the back and an attached large D-ring for easy leash attachment. A small D-Ring attached at the neck area to add on a "Klippo" charm or ID tag! Fits most dachshunds.
Polyester
Designed for Toy Breeds and Small & Medium Size Dogs
Please take the time to measure! We want your order to fit when you receive it. The Chest Girth is the 1st most important measurement.
Click the SIZE CHART Tab above for the size chart.
SIZE CHART
HOW TO MEASURE
We suggest using a cloth measuring tape. If you don't have one available, you can use a ribbon, string or piece of yarn, mark it then lay it on a yard stick.
The Largest portion of the chest is directly behind the front legs, make sure your dog is standing. Start at the back, bring the measuring tape directly behind the front legs, all the way under, around and back to the beginning. If your pup has a lot of fur, we suggest you go up a size. Allow for some shrinkage.
While your dog is standing, measure their length from the base of the neck to the rump, do not include the tail. The the neck, the neck is usually not an issue unless your dog has an unusually large neck. Don't forget the belly rub!
Size

Neck

Chest

Length

XS
6 - 7.5 inches
10 - 12 inches
6 - 8 inches
S
7.5 - 9 inches
12 - 14 inches
8 - 10 inches
M
9 - 11 inches
14 - 16 inches
10 - 12 inches
L
11 - 13 inches
16 - 18 inches
12 - 14 inches
XL
13 - 15 inches
18 - 20 inches
14 - 16 inches
HOW TO MEASURE
How to Measure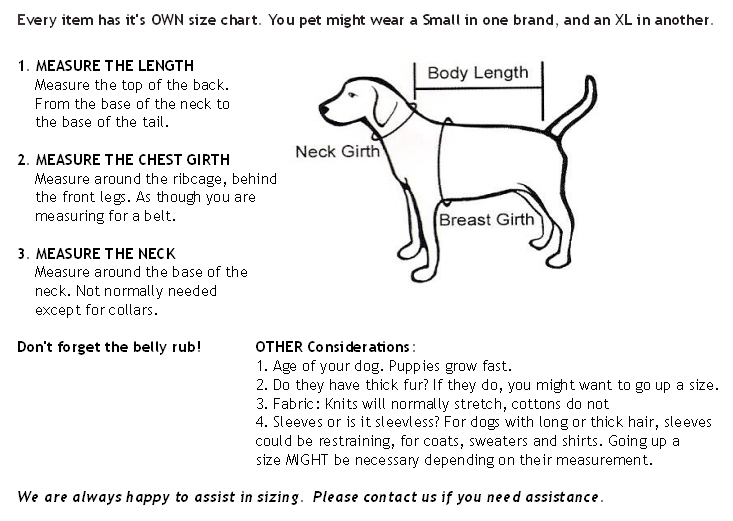 View All
Close