Description
Cooling & Warming Dog Harness with Gel Pack
Our cooling & warming pet harnesses are completely unique as there is nothing else available that offers the quality construction & innovative design of a high-end, nylon dog harness, coupled with the health and wellness benefits of our non-toxic & re-usable gel pack system.
Kumfy Tailz works by applying the proven, therapeutic power of cooling or warmth to a dog's chest and abdominal area, better known as the "core." This important core area is where most of the vasculature and major organs are housed. It is also the place where they have the least amount of fur, and where skin can be the thinnest. By addressing this core area, the heart is able to pump cooled or warmed blood to the extremities, helping to regulate the dog's temperature.
Features:
Lifetime replacement warranty
Fully Adjustable neck and belly straps for custom fit
Elongated back strap with lowered D-ring to eliminate choking and tracheal damage
Helps to prevent both Heatstroke and Hypothermia
Double buckle system eliminates the need for dogs with arthritis, joint or hip problems to lift their leg when using product
Gel pack that can be heated and or cooled.
Gel pack is 100% non-toxic, reusable, and replaceable
Wide array of sizes to fit dogs ranging from 4 to 125 lbs.
Sizing
Size
Size By Weight
A - Neck
B - Belly
XXS
3 - 7 lbs
9 - 11 inches
10 - 15.5 inches
XS
6 - 15 lbs
11 - 13 inches
12 - 19 inches
Small
14 - 30 lbs
13 - 16 inches
17 - 27 inches
Medium
30 - 75 lbs
16 - 20 inches
20 - 40 inches
Large
75+ lbs
20 - 26 inches
25 - 45 inches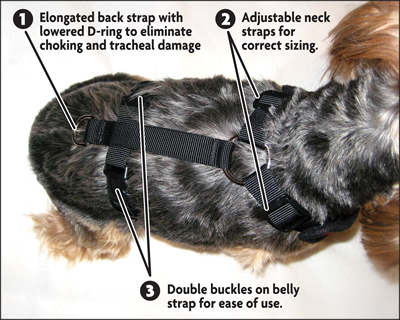 View All
Close